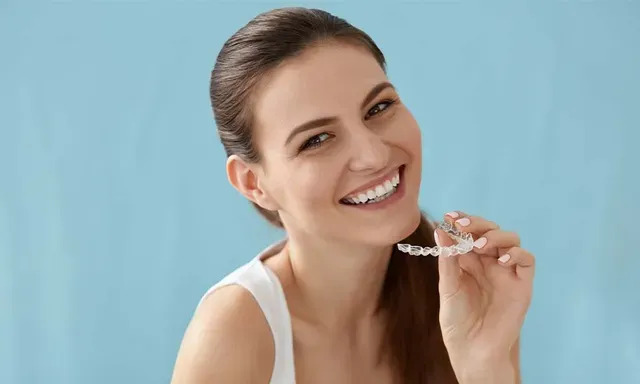 Invisalign services offered in Linden, NJ
If you're looking for a seamless and discreet orthodontic alternative to braces, Charanjit Sandhu, DDS, and her dental team at A P S Dental Center offer Invisalign® as the perfect solution. The office recommends Invisalign as your custom-fit treatment for crooked teeth or a misaligned jaw. Call the office in Linden, New Jersey, today or book an appointment online to learn more about Invisalign.
What is Invisalign?
Invisalign is the latest orthodontic treatment that helps straighten misshapen teeth and fixes any jaw misalignment. It involves a system of clear aligners to gradually move your teeth into the optimal position.
Many people consider Invisalign to be an exceptional alternative to braces. This orthodontic solution yields impeccable results and makes oral health care maintenance a breeze with its removable capability.
What is the process for getting Invisalign?
Your provider at A P S Dental Center takes detailed measurements and impressions of your mouth. This provides them with vital information so that your Invisalign clear aligners fit snugly around your teeth.
After taking your impressions, they upload them into the Invisalign software to design your custom set of aligners. Then, they send this information to an Invisalign lab, where your aligners will be manufactured.
When your first set of clear aligners are ready, you return to A P S Dental Center to try them on. Throughout treatment, you'll need to change into new sets of aligners to place tension on different sets of teeth.
With Invisalign, there's no need to worry about dietary restrictions. Simply remove Invisalign aligners before eating and put them back in once finished.
Is Invisalign safe?
The American Dental Association (ADA) promotes orthodontic care through a qualified dental provider. Teeth and jaw alignment requires extensive medical knowledge, and the A P S Dental Center provides their expertise to properly address your concerns. This ensures safe application of the Invisalign treatment.
Do I need Invisalign?
Invisalign might be right for you if you have any of the following:
1. Overbite
2. Underbite
3. Crossbite
4. Crowding
5. Gaps
Considering any of these factors makes you a great candidate for Invisalign. Without treatment, it may increase your risk of additional issues, such as headaches, temporomandibular joint (TMJ) dysfunction, and gingivitis.
How should I wear my Invisalign aligners?
During treatment, it's recommended to wear Invisalign up to 22 hours a day, and you should only remove Invisalign when eating. Trays switch out every 1-2 weeks and encourage movement of your teeth. You may experience slight soreness and discomfort when applying a new clear aligner to your teeth.

To see if Invisalign is right for you, call A P S Dental Center or book an appointment online today.