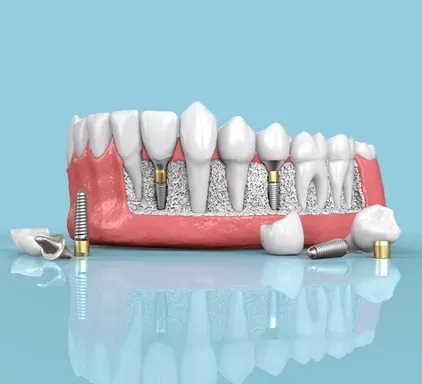 Crowns and Bridges services offered in Linden, NJ
Having damaged or missing teeth can affect not only your oral health, but your entire health as well. At A P S Dental Center in Linden, New Jersey, Charanjit Sandhu, DDS, and her dental team provide crowns and bridges to maintain your overall well-being. Call the office in Linden, New Jersey, today or book an appointment online to learn more about crowns and bridges.
What are crowns and bridges?
Crowns and bridges serve as replacement teeth when your tooth becomes damaged or lost. Crowns and bridges are customized to blend in seamlessly with the rest of your smile, making them indistinguishable from your natural set of teeth.
Crowns cap a single tooth in need of repair. The process entails reshaping your original tooth after removing all sources of potential infection. This ensures a strong, healthy tooth for the crown to place over.
Bridges function very similarly to crowns, but bridges treat multiple teeth. Bridges work to fill in the gaps of missing and damaged teeth. You can think of bridges as a series of connected crowns.
Do I need crowns and bridges?
There are several causes that may require the need for crowns and bridges, including:
1. Tooth decay
2. Injury
3. Gum disease
4. Restoring a damaged tooth
5. Protecting a weak tooth
6. Supplemental root canal treatment

Additionally, crowns and bridges help with biting and chewing difficulties. These restorations also provide a cosmetic benefit by enhancing the appearance of your natural teeth.
Are crowns and bridges safe?
Crowns and bridges remain in your mouth for many years, so only safe and nontoxic materials are used for your treatment. Crowns and bridges may consist of metal, porcelain, resin, ceramic, or a combination of these materials. Your unique needs determine the best type for you.
It's important to make your dentist aware of any potential allergens. For example, some types of dental crowns or bridges derive from nickel, which can affect those with metal-related allergies. This could influence your choice and help you avoid future complications.
How do you care for crowns and bridges?
Care for crowns and bridges the same way you care for your natural teeth. This includes brushing twice a day and flossing daily at minimum. You can also support your oral health with a healthy, balanced diet, in addition to scheduling a dental cleaning at least twice a year.
To promote the longevity of your crowns and bridges, avoid excessive grinding or chewing. Regularly chewing ice, biting your fingernails, or using your teeth to open packages increases your risk of damage to your crowns and bridges and natural teeth. When you avoid unnecessary wear-and-tear, your restorative treatments can last up to 15 years*.
Learn more about crowns and bridges by calling A P S Dental Center or booking an appointment online today.

*Individual results may vary