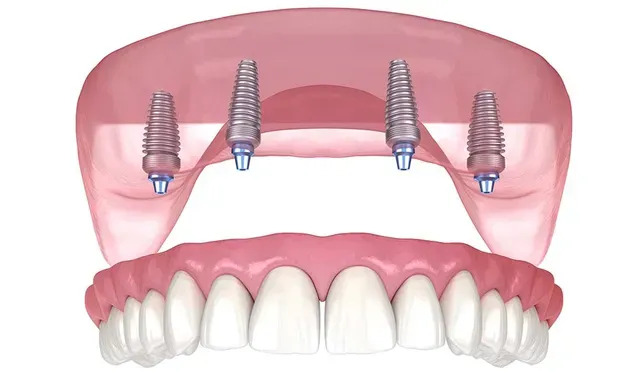 All On 4 Dental Implants services offered in Linden, NJ
The All-on-4® treatment is a full-arch implant system, supported on four implants without the need for a bone graft. Charanjit Sandhu, DDS, and her dental team at A P S Dental Center offer this innovative dental implant solution to their patients with little bone volume. Call the office in Linden, New Jersey, today or book an appointment online to learn more about All-On-4 implants.
All On 4 Dental Implants Q & A
What are All-on-4 implants?
All-on-4 is a treatment solution that provides total rehabilitation of missing or damaged teeth. With only four implants required, the All-on-4 is an excellent option when bone density is low or when a patient is not an ideal candidate for a bone grafting procedure.

All-on-4 replaces all teeth of the upper and lower jaw and provides full-arch support. It also enhances your oral function in a single surgical procedure.
Would I benefit from All-on-4 implants?
Unlike traditional implants, the All-on-4 is a graftless implant solution. This makes it an excellent solution when bone grafting isn't possible. Before placing your implants, your provider removes any source of infection to encourage healthy gums.

All-on-4 offers several benefits, including:
1. Immediate replacement to both rows of teeth
2. Improved chewing and bite capabilities
3. Implants that can last over a decade*
4. Enhanced oral health

If you lose teeth as a result of injury or disease, the All-on-4 treatment system effectively treats these issues and promotes better oral health
Are All-on-4 implants safe?
The Food and Drug Administration (FDA) regulates and monitors the creation of dental implant solutions, like All-on-4, to ensure patient safety.
All-on-4 also proves to be safer than traditional implants*. All-on-4 requires no bone grafting, and as a result, means less surgery and less risk of oral health complications.
What is the process for getting All-on-4 implants?
Before treatment, you'll sit in a comfortable operating chair and receive sedation. Once sedated, your provider removes any damaged teeth or gum tissue. Then, bone tissue underneath the gums is smoothed out and prepared for All-on-4 implants.

Your provider carefully inserts the dental implant solution at specific points within the mouth to encourage maximum stability and support. Next, they will replace gum tissue around the treatment area and close any incisions.

Finally, your provider checks for irregularities before finalizing the All-on-4 treatment process and inserts the prosthesis components into the newly placed implants.

To find out if All-on-4 is the treatment solution for your oral health needs, call A P S Dental Center or book an appointment online today.

*Individual results may vary