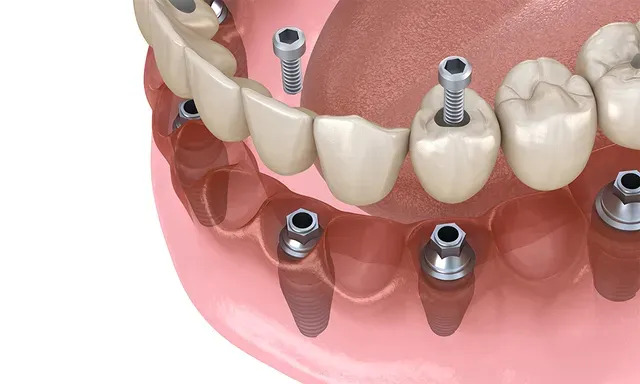 All-on-4/All-on-6 services offered in Linden, NJ
If you're looking to replace full sets of teeth, Charanjit Sandhu, DDS, and her dental team at A P S Dental Center offer All-on-6® implants when traditional implants may not work for you. The office recommends the dental implant solution to restore your smile and provide you with a natural-looking set of new teeth. Call the office in Linden, New Jersey, today or book an appointment online to learn more about All-On-6 implants.
What are All-on-6 implants?
All-on-6 is a graftless dental implant system that provides full sets of teeth to your upper and lower jaw. All-on-6 uses six dental implants that safely anchor into your jawbone. This dental implant solution may be ideal for patients unable to undergo a bone grafting procedure.

A P S Dental Center recommends All-on-6 for a healthy and functional set of teeth. Additionally, All-on-6 is custom-tailored to fit your mouth. The team of experts takes specific measurements to ensure a comfortable application.
Is All-on-6 better than All-on-4 implants?
Both All-on-6 and All-on-4 offer strong foundations for restorations, like crowns and bridges. Both treatments also provide a safe and affordable dental implant solution. All-on-6 supplies additional support to those in need of greater reconstruction.

The option that best supports your oral health depends on the level of support you require. At A P S Dental Center, your provider can help you determine which solution may be best for your needs.
Are All-on-6 implants safe?
All-on-6 provides maximum support while being minimally invasive. It avoids the risks associated with bone grafting surgery, since All-on-6 is a graftless implant solution. However, as with traditional implants, there are some risks associated with implant surgery.

Some complications of dental implants may include post-surgical numbness, injury to the surrounding tissue, and soreness. If you experience any of these symptoms, contact A P S Dental Center immediately for guidance.

In general, dental implants are a safe treatment to effectively improve your oral health. The Food and Drug Administration (FDA) regulates the use of dental implants and the materials they derive from. Dental implants last over a decade when cared for properly*. As a result, dental implants only use safe, nontoxic ingredients.
What are the benefits of All-on-6 implants?
The All-on-6 treatment system provides several benefits, such as:
1. No need for dentures
2. Improved bite and chewing function
3. Easy-to-clean and care for Immediate solution in a single surgery
4. Long-term results
5. Full-arch support

The specific benefits you'll find after implant surgery depend on the dental issues treated. A P S Dental Center is committed to helping you achieve a beautiful, healthy smile.
Are All-on-6 implants painful?
Before treatment, anesthesia administration helps prevent discomfort and pain once the procedure starts. Following the procedure, you may experience sore gums and slight discomfort. Cold packs and pain medications help alleviate these symptoms. If pain persists for several days, you should contact A P S Dental Center immediately.

To find out if All-on-6 implants can benefit you, call A P S Dental Center or book an appointment online today.

*Individual results may vary